Singapore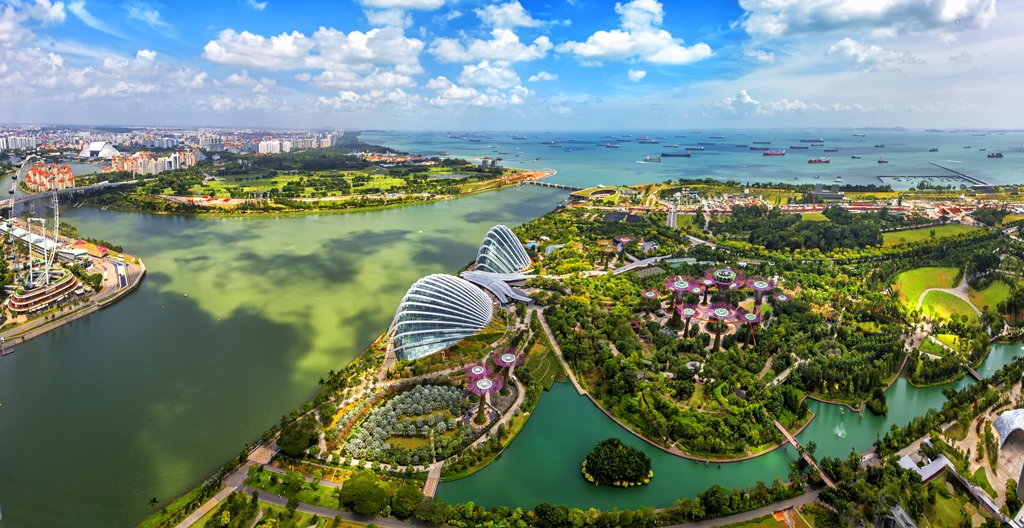 City-states always have their own charm. These small communities of citizens, housed in a miniature area by all standards, somehow they manage to stand out, to protect their own identity and to be equally loved and respected by neighbors, partners, visitors. Singapore is one of the wonders of the modern East Asian economy and urbanization and a center of attraction for thousands of tourists because of the dozens of futuristic attractions, of which we cannot help but be impressed.
Singapore is a rich country, but also extremely tidy. Guided by Eastern values, but on the wave of the latest scientific and technical achievements. Singapore is charming with its architectural landmarks, with gardens and parks, with its museums. And although there are no buildings and monuments for millennia, modern attractions are no less beautiful and enriching every visitor. In this article we will tell you about the most popular sights in Singapore.
MARINA BAY

(

MARINA BAY

)
Marina Bay is not just a sight, which you can't miss. This is the place in Singapore, where you will find numerous attractions and things to do - from cafes, restaurants, pool, to the Science Museum. Central to the complex are the three towers with a height of almost 200 meters and the connecting observation area of ​​the roof, known as SkyPark. There is a hotel within the complex, movie, theater, ice rink, huge shopping mall, cafes and restaurants. There is also a 150-meter infinity pool on the roof of the complex, which, however, is only available to hotel guests. If you arrive around 8 in the evening, you will also be able to enjoy a unique light show over the bay and the city.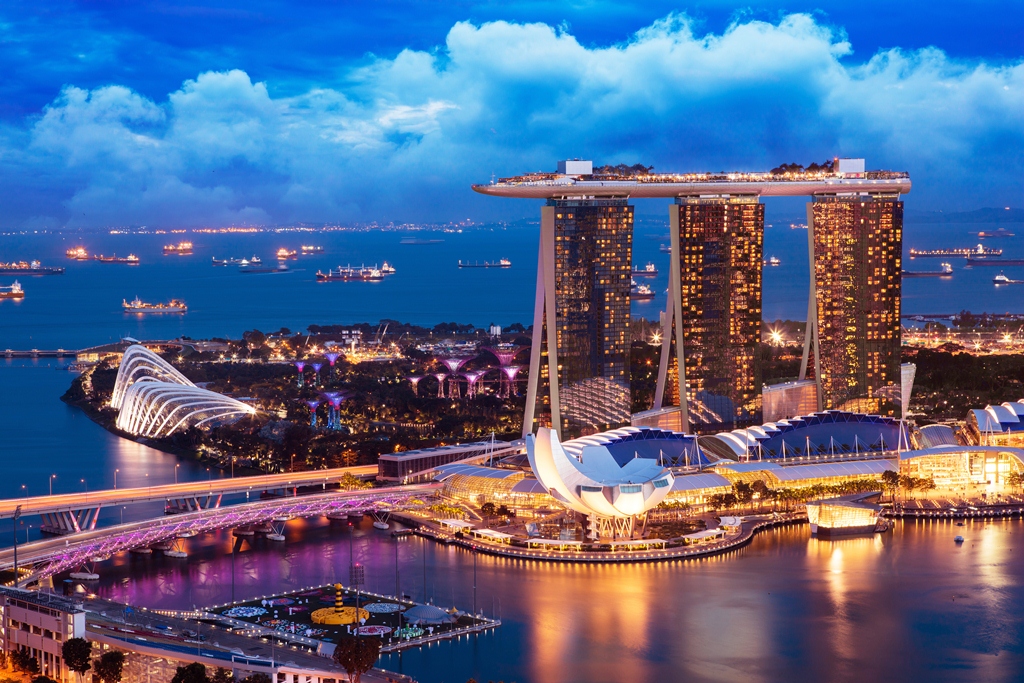 GARDENS BY THE BAY (GARDENS BY THE BAY)
This amazing park is one of the remarkable achievements of landscape architecture and location, which you can't miss. Providing more greenery has been a priority for Singapore's leaders for decades, and these gardens are one of their dreams.. In the park you will find green gardens with quiet paths, mini mountain with waterfall, two huge domes, under which live a variety of plant species. Among the most attractive parts of the park are the artificial supertrees, between which is an air bridge, which you can walk on. Extremely interesting attraction for both adults, and for children.
If you love gardens and parks, in the western part of the city you can walk to the Chinese and Japanese gardens. During the weekend you will meet many locals, who play cricket. There is also a living turtle museum in the Chinese Gardens, which houses the world's largest collection of turtles.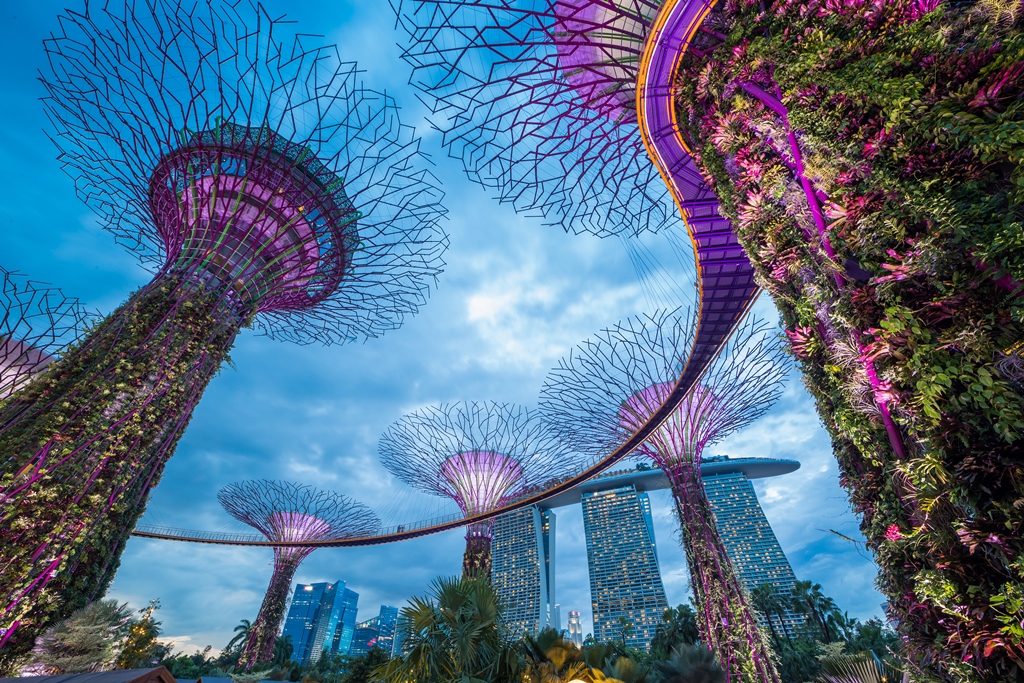 CHINATOWN
Chinatown is one of the most charming and pleasant places to walk in Singapore. The place is great for everyone, who want to immerse themselves in local life, as well as for lovers of shopping and delicious food. In Chinatown you can find the cheapest souvenirs and all other necessities and all kinds of Chinese delicacies at excellent prices.. If you are curious to immerse yourself in the story, enter the Chinese Heritage Center (Chinatown Heritage Centre). There you will learn how Chinese immigrants, who were among the first settlers of these lands, have lived a difficult life in the first years of their settlement. In the neighborhood you can also see the oldest temple in Singapore – Thian Hock Keng and several other Chinese religious temples.
LITTLE INDIA
The Indian Quarter (Little India) is another colorful place, where you can immerse yourself in the lives of local Indian immigrants. It's noisy here, fragrant and colorful. Of course, there are plenty of restaurants, offering delicious (and quite spicy) Indian cuisine and delicious desserts.
CLARK KAY (CLARKE QUAY)
If you love nightlife and beautiful night views, here is your place for a walk after sunset. Today, the old shopping piers have been turned into an entertainment area with restaurants, shops, bars and cafes, and in the evening you can enjoy an unforgettable light show and views of the futuristic skyscrapers in the city center.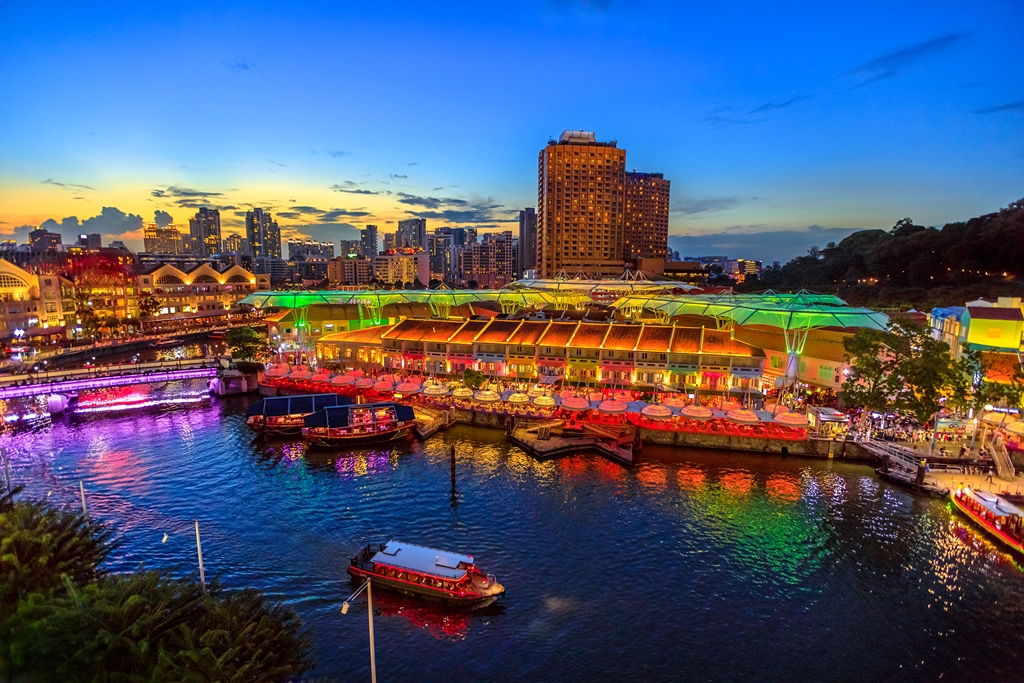 SENTOSA ISLAND
This artificial island was built off the south coast of Singapore in order to offer entertainment and recreation. There you can find beaches, theme parks, golf courses, countless options for shopping and dining. There is a road to the island, as well as a gondola lift.
Universal Studios Amusement Park is also located on the island, in which you can immerse yourself in the atmosphere of many of the most famous movies and raise the adrenaline with one of the many attractions in the amusement park. Evening, of course, there is a great light and sound show.
MERLION - THE SYMBOL OF SINGAPORE
This strange mythical creature with a lion's head and a fish's tail is a mascot and symbol of Singapore. It was established in the middle of the last century, after Singapore announced a competition to create a new symbol of the state. There are seven statues of Merlion in the city today, as one of the most famous is opposite the Marina Bay complex, near the Raffles Hotel.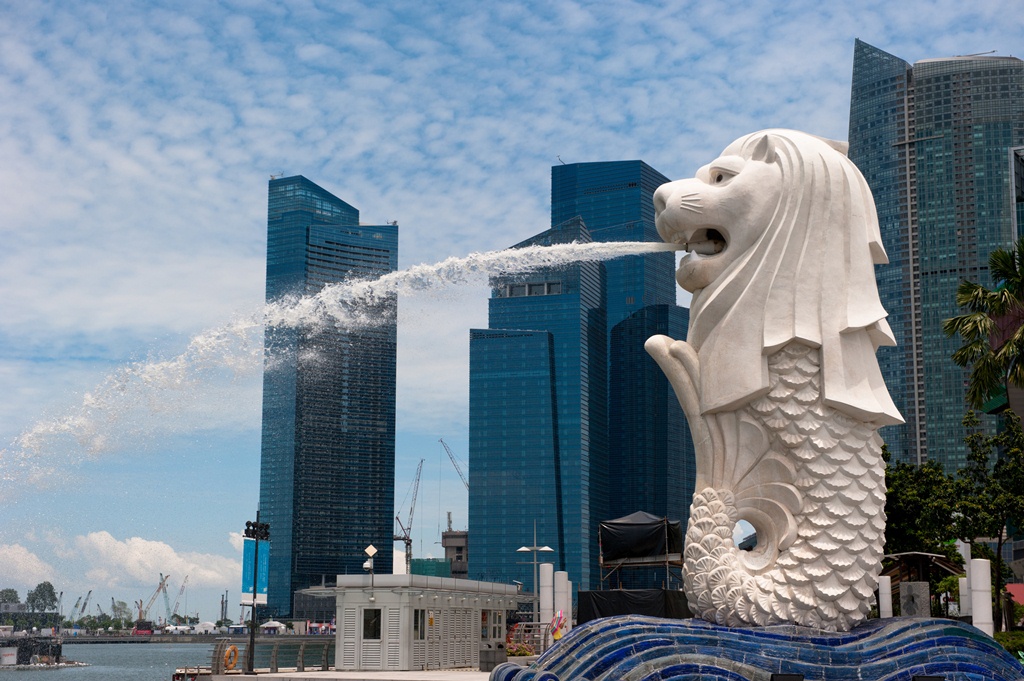 RAFFLES HOTEL
Hotel Raffles was founded in 1887 r. by two Armenian brothers and is a remarkable colonial-style building. It is named after the founder of colonial Singapore, Sir Thomas Raffles. Over the years, the hotel has hosted famous guests such as Elizabeth Taylor and to this day is one of the most expensive and luxurious hotels in Singapore.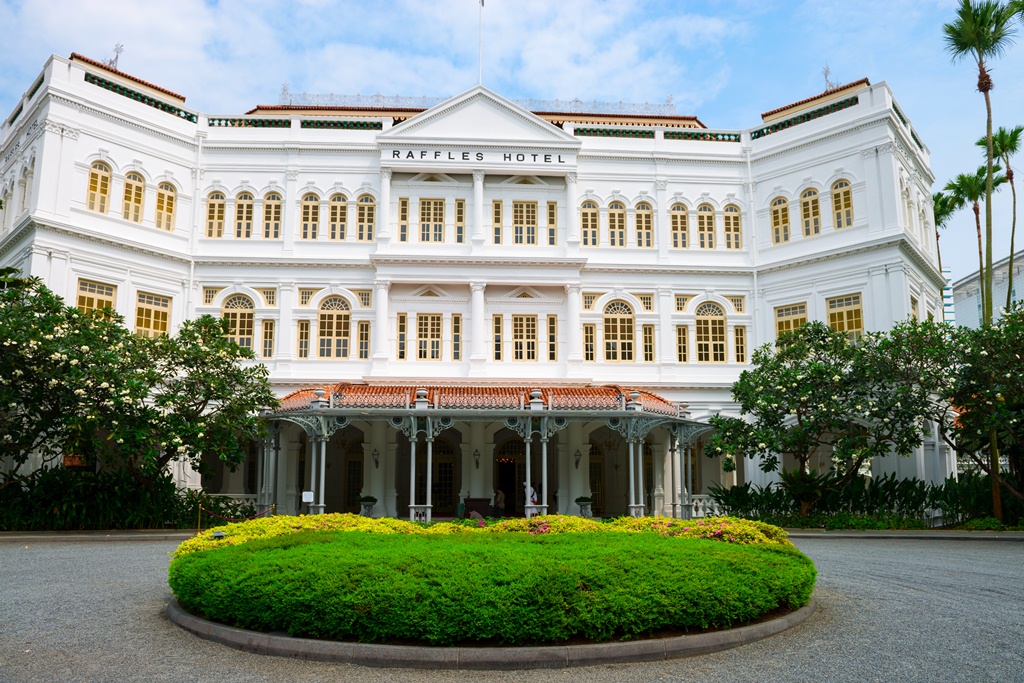 ORCHARD ROAD - ORCHARD ROAD
This is the place, if you like shopping. The long one 2 kilometers of street will offer you countless shops and boutiques.
SINGAPORE FLYER
High above 167 meters Ferris wheel Singapore Flyer is the second highest such facility in the world, as the only one higher than it is in Las Vegas. It is composed of 28 air-conditioned booths, each of which can accommodate 28 passengers. Not only Singapore can be seen from its top in clear weather, but also parts of Indonesia and Malaysia.
SINGAPORE ZOO
This is one of the most natural animal parks in the world, in which the animals are not kept in cages, and in large spaces, close to their natural environment. Among the most attractive inhabitants are orangutans, who happily demonstrate swinging in the trees and eating fruit. The zoo also organizes various attractions for visitors, such as breakfast with orangutans - you eat in nature, while the primates walk around you.
If you are a fan of the animal world, there are several other wildlife parks in singapore. Another very popular attraction is the night safari, in which you can witness the nightlife in the forest and jungle.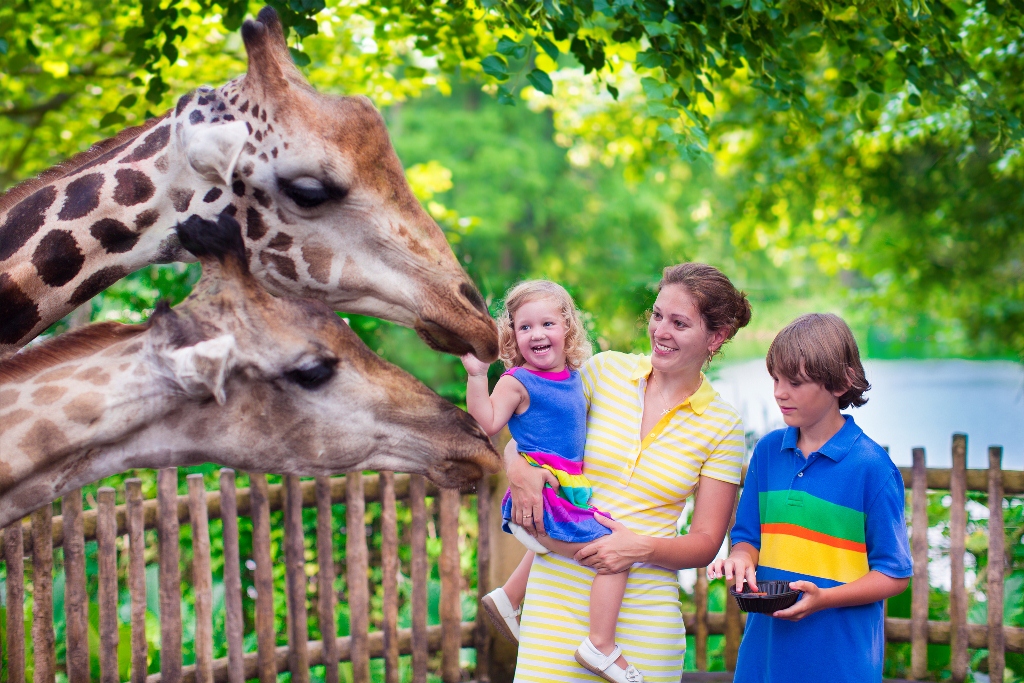 WHEN TO VISIT SINGAPORE?
Singapore is a year-round destination in terms of climate, but according to most recommendations, the best time is between December and June. The months from February to April are usually dry and hot season. If you want to avoid the crowds of tourists, it is calmest from July to November. The summer months from June to August are excellent weather, if you go mainly for beach and rest. At the same time, there are the best shopping opportunities in Singapore.
A popular time to visit is the Chinese New Year celebrations in January and February, as well as the many festivals, which are organized in the fall. If you just want to walk, to explore beautiful parks and museums, it doesn't matter what time of year you go.
This article was written with the assistance of BulTravel and Agent Express EOOD.
Author : Ivan Rashkov
For BOOKINGS of tourist services (airline tickets, hotels, tours, cruises, package holidays, transfers, car rental, ferries, etc.) click HERE.